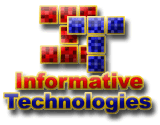 Welcome to the Informative Technologies homepage. Since 2002, Informative Technologies has provided expert computer sales and service to small and medium-sized businesses, and also private individuals in the Greater Toronto Area.

Virus & malware removal, Private cloud & custom backup solutions, secure remote access & maintenance, and complete networking solutions are just some of the many services Informative Technologies provides.

Contact Informative Technologies today to learn how you can: increase your productivity; maintain your systems & keep your business operating smoothly; protect your valuable data; & much more.